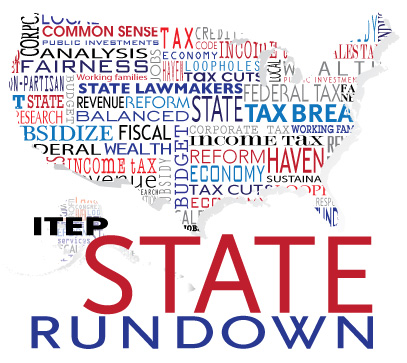 .ITEP Staff

Although the weather is beginning to cool down in parts of the country, the same cannot be said for many state economies, which are still running hot. That, however, doesn't mean that the good times are guaranteed to last, and states should consider that when making changes to their tax laws. Unfortunately, states like Arizona and Missouri (among others) have already made big changes with benefits that will primarily flow to the already wealthy. Blunt policy tools like harsh, deep tax cuts—like the ones currently being proposed in North Dakota and debated in Colorado—are rarely the best answer, especially when considering how the wealthy are oftentimes best positioned to "weather" things like the increasingly likely recession, while the long-term effects upend the ability to support strong, thriving communities.
Major State Tax Proposals and Developments
The 2.5 percent flat tax recently approved in ARIZONA will go into effect in 2023, a year ahead of schedule. The plan, which primarily benefits the wealthy, was originally scheduled to be phased in over multiple years but collections have exceeded the statutory thresholds required to implement the tax. – MARCO GUZMAN
A $1 billion tax cut package was signed by MISSOURI Gov. Mike Parson. The centerpiece of the package is a bill that will reduce the top income tax rate from 5.3 to 4.9 percent in 2023 and includes triggers to further reduce the top rate to 4.5 percent. The plan disproportionately benefits wealthy Missourians over lower-income and elderly households while doing nothing to benefit the state economy and simultaneously jeopardizing the state's ability to fund priorities like education once these temporary surpluses disappear. – NEVA BUTKUS
State Roundup
What We're Reading
Farhad Manjoo's opinion piece in the New York Times discusses how the expanded Child Tax Credit and universal basic income programs can transform the lives of low-income families. Two recent ITEP briefs discuss recent momentum around refundable credits (CTCs and EITCs), and recommendations for policy design of these credits in the states.
The Institute for Policy Studies has a new report out arguing that Trust policy in many states is enabling billionaires to avoid and evade taxes through what amount to on-shore tax havens.
Stateline explores how unpaid property taxes can sometimes mean not just losing one's home, but all the equity built up in that home as well.
If you like what you are seeing in the Rundown (or even if you don't) please send any feedback or tips for future posts to Aidan Davis at [email protected]. Click here to sign up to receive the Rundown via email.
---
---