.ITEP Staff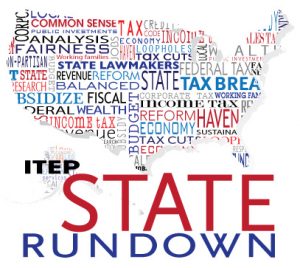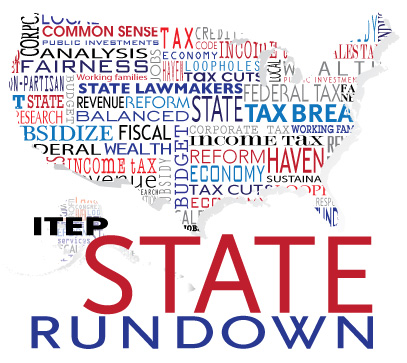 This week in state tax news we see Louisiana's session getting started, budgets passed in New York and West Virginia, Kansas lawmakers taking a rest after defeating a harmful flat tax proposal, and Nebraska legislators preparing for full debate on major tax cuts. Nevada lawmakers may make tax decisions related to tampons, diapers, marijuana, and property before closing their session this week. And gas tax update efforts are gaining steam in Alabama, South Carolina, and Tennessee.
— Meg Wiehe, ITEP State Policy Director, @megwiehe
What We're Reading…
An op-ed penned by New Jersey Policy Perspective makes a good case for a change of approach to New Jersey's fiscal issues, arguing that "Instead of the annual ritual of scores of groups with important needs fighting for tiny scraps of an ever-shrinking pie of funding, New Jersey needs to take a serious look at making that pie larger." The op-ed offers a few excellent suggestions for how to accomplish this goal.
A new report by the Keystone Research Center (KRC) provides estimates of the impact of property tax elimination proposals. The analysis shows that eliminating Pennsylvania's school property taxes would increase taxes on the middle class while hampering the state's ability to adequately fund public schools.
The Louisiana Budget Project has just released an analysis of Gov. John Bel Edward's tax plan—a plan that suggests adopting a Commercial Activities Tax and significant changes to the personal and corporate income taxes that would require both legislative and voter approval. If all components of the tax reform package were to be enacted, collectively these reforms would be a move toward a more adequate tax system for the state.
The Iowa Fiscal Partnership has released a brief on elements to consider when discussing tax reform and debunking some of the myths currently driving the debate.
The Georgia Budget and Policy Institute takes a look back at this year's session, noting the state avoided some harmful regressive tax cuts but also passed a number of smaller changes that add up to a significant reduction in revenue for state services.
If you like what you are seeing in the Rundown (or even if you don't) please send any feedback or tips for future posts to Meg Wiehe at [email protected]. Click here to sign up to receive the Rundown via email.
---
---
Authors

.ITEP Staff

Share
Full Archive