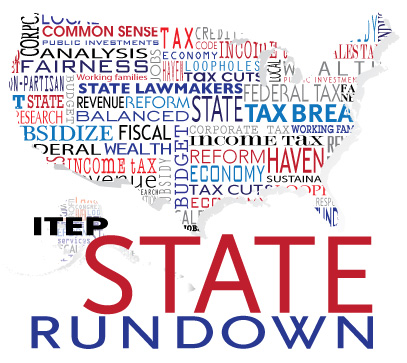 .ITEP Staff

Taxing rich households and large corporations to fund vital investments in education and other shared priorities has long been a winner in the eyes of the American public, and more recently has also enjoyed a string of victories in state legislatures and at the ballot box. That win streak continued this week as Arizona's voter-approved tax surcharge on the rich and Seattle, Washington's payroll tax on high-profit, high-salary businesses both survived court challenges, and Massachusetts leaders approved a millionaires tax to go before voters next year. Louisiana lawmakers are also sending a mixed bag of tax changes to the ballot to be voted on later this year.
Major State Tax Proposals and Developments
Several legal challenges to ARIZONA's recent voter-approved 3.5 percent surcharge on wealthy taxpayers were thrown out. However, whether the new revenue will exceed the state's K-12 constitutional spending limit has yet to be determined. — MARCO GUZMAN
LOUISIANA Gov. John Bel Edwards is set to sign a tax overhaul package that would eliminate personal and corporate income tax deductions for federal income taxes paid, lower the state's income tax rates, permanently eliminate the corporate franchise tax for small businesses, lower the corporate franchise tax rate for other businesses, and create triggers that would automatically lower tax rates if Louisiana reaches a certain level of growth. Although eliminating the deduction for federal income taxes paid is a long-awaited positive change, the remaining changes reduce revenue and prevent lawmakers from making new investments. Further, the triggers introduce more uncertainty into the tax system. Louisianans will vote on the proposal in October. — KAMOLIKA DAS
State Roundup
What We're Reading
If you like what you are seeing in the Rundown (or even if you don't) please send any feedback or tips for future posts to Meg Wiehe at [email protected]. Click here to sign up to receive the Rundown via email.
---
---