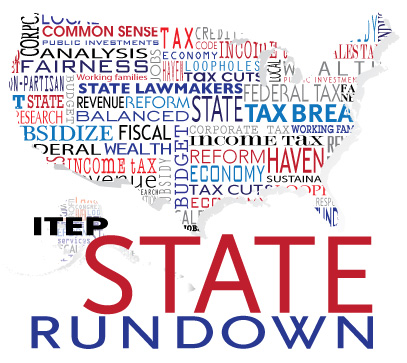 .ITEP Staff

While federal tax policy has dominated the headlines with the Senate's recent approval of the Inflation Reduction Act, lawmakers in statehouses across the country are still busy trying to determine how best to put their budget surpluses to use. Unfortunately, cutting taxes remains a popular option. Arkansas is looking like it's set on using revenues to accelerate the phase-in of tax cuts passed last year. And though lawmakers in West Virginia just ended their special session, they are continuing to negotiate a tax plan that incorporates some of Gov. Jim Justice's proposed income tax cuts and their cuts to business inventory taxes. Meanwhile, the Supreme Court's decision in Dobbs is already having unique tax implications, as pregnant women in Georgia can now claim fetuses as dependents.
Major State Tax Proposals and Developments
As their week-long special session begins, ARKANSAS lawmakers have already advanced tax cuts that would accelerate individual and corporate income tax reductions approved the year prior. – NEVA BUTKUS
As WEST VIRGINIA lawmakers continue to discuss tax cut options, some are tossing around the idea of a hybrid plan, which would include some provisions from the governor's proposal and theirs. Specifically, the plan would only reduce some of the income tax rate brackets and cut business inventory taxes and other taxes on tangible personal property. – KAMOLIKA DAS
RHODE ISLAND's one-time Child Tax Credit passed and payments of $250 per child (up to $750 total) will start going out in October to married couples with incomes below $200,000 and single-earner families with incomes below $100,000. – DYLAN GRUNDMAN O'NEILL
State Roundup
What We're Reading
Cristobal Young and Ithai Lurie with the Washington Center for Equitable Growth published a brief examining the effect of tax reform and the pandemic on tax flight among millionaires in the United States.
Courthouse News Service reports on the growing trend of cities in California taxing vacant homes to fund local needs (usually related to housing and homelessness) and relieve pressure in the housing market, an idea cities in other states have considered as well.
The Oklahoma Policy Institute's Interim Executive Director Shiloh Kantz wrote an op-ed about the pitfalls of the legislature's latest tax policy ideas, which includes creating a flat tax. She goes on to explain how regressive the Oklahoma tax system already is and how a flat tax only makes that worse. She also refutes tax cuts for inflation's sake and argues that if lawmakers are worried about inflation, they should look to expanding the state's Sales Tax Relief Credit and EITC.
Amy Blouin of the Missouri Budget Project recommended that lawmakers avoid making cuts to the state's income tax rate, especially as the country faces a potential recession.
Policy Matters Ohio updated a brief highlighting the "LLC loophole," which allows individuals to avoid paying taxes on income up to $250,000 and pay a low, flat rate on income above that threshold. The brief argues that the loophole disproportionately benefits a small group of wealthy taxpayers and does little to spur job creation.
If you like what you are seeing in the Rundown (or even if you don't) please send any feedback or tips for future posts to Aidan Davis at [email protected]. Click here to sign up to receive the Rundown via email.
---
---