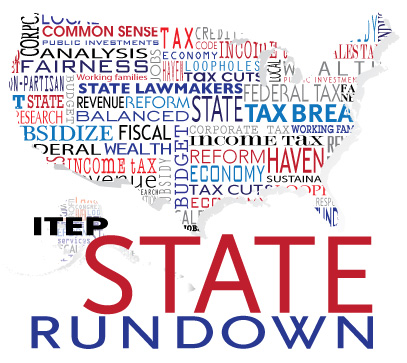 .ITEP Staff

Though Labor Day has passed, advocates on the ground in states across the country are continuing to uphold the spirit of the labor movement. Specifically, in California, a bill to support fast-food workers was passed, which authorizes an oversight council to raise the minimum wage for these workers to up to $22 per hour. In Nebraska, voters will now have a chance to decide to increase the state minimum wage to $15 per hour by 2026 followed by cost-of-living adjustments in later years. There's no greater reminder for how quickly progress can be undone, however, than Idaho. Lawmakers in the Gem State have, over the course of several years, chipped away at the progressivity of their state's income tax and most recently, made the switch to a 5.8 percent flat tax over the course of a one-day special session. But the fight for things like labor rights and tax justice is a marathon, not a sprint. Onward!
Major State Tax Proposals and Developments
It only took IDAHO Gov. Brad Little and state lawmakers one day to pass a tax cut during the recent 2022 special session. The bill enacts a flat, 5.8 percent personal income tax, while spending $500 million on tax rebates ($300 for single filers or $600 for joint filers). Also, the bill transfers $330 million annually from sales tax collections to K-12 education. While inflation concerns and a record budget surplus spurred calls for the special session, analysis of the bill from the Idaho Center for Fiscal Policy with support from ITEP found that the average tax cut for wealthy residents was far greater than it was for lower-income households. Questions remain about the future of the Quality Education Act—an initiative designed to impose a new top rate on wealthy earners that had recently gained enough signatures to appear on the November ballot—but it is likely that this new tax bill will undercut the measure. – MARCO GUZMAN
State Roundup
What We're Reading
If you like what you are seeing in the Rundown (or even if you don't) please send any feedback or tips for future posts to Aidan Davis at [email protected]. Click here to sign up to receive the Rundown via email.
---
---