March 23, 2020
New Analysis: Revised GOP Stimulus Proposals Still Fails to Meet Critical Needs
news release
Media Contact
The revised GOP stimulus proposal still fails to do enough for struggling families while providing a no-strings-attached bailout to corporations, the Institute on Taxation and Economic Policy said today.
ITEP today released an analysis of the revised plan. Among its key findings:
The revised proposal could leave 7.5 million households without access to immediate benefits because initial payments are limited to households that either filed a tax return in 2018 or 2019 or received a Social Security check. These people include veterans, very low-income seniors and people with disabilities, and others whose incomes are so low that they are not required to file tax returns.
The total amount of payments in the modified bill is $278 billion, a modest improvement over the $216 billion from the previous bill. The modified package gives all adults with income under $75,000 ($150,000 for married couples) a one-time $1,200 rebate and an additional $500 per child.
The benefits of the modified GOP proposal pale in comparison to the $1.4 trillion package proposed by Sens. Michael Bennett, Cory Booker and Sherrod Brown. The Democratic proposal would:
Send every adult and child with incomes under $90,000 ($180,000 for married couples) a $2,000 rebate immediately and would continue sending support until the crisis wanes for a total up to $4,500 per person this year.
Provide a family of four with an immediate infusion of $8,000 and up to $18,000 in 2020.
Give the average household in the bottom 60 percent $7,950 compared to just $1,670 under the modified GOP bill.
"A $1 trillion-plus proposal that showers most of its largesse on corporations with no strings attached and fails to get adequate resources to millions of struggling families should be a non-starter. The Senate was right to reject this plan," said Amy Hanauer, executive director of ITEP. "The devastating effects of this twin public health and economic crisis are beginning to mount. We do not have time for lawmakers to put corporations first and people second. And we should not be incorporating arbitrary loopholes that leave the nation's most vulnerable families behind. The proposal from Sens. Booker, Bennet and Brown to immediately get cash into the hands of most of the nation's families should be the starting point for ongoing stimulus negotiations."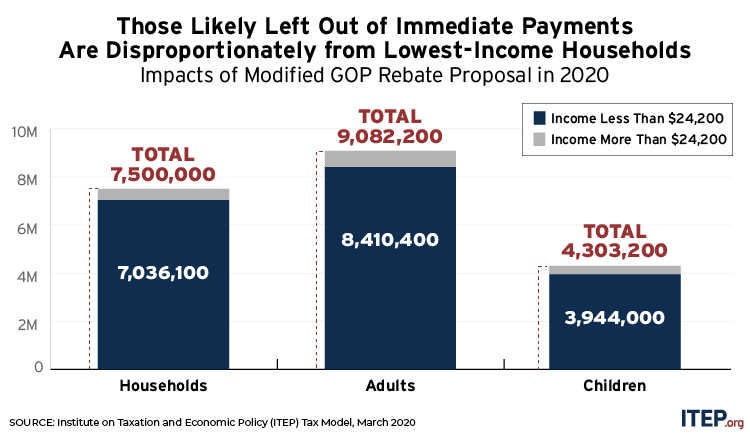 Read the analysis here: https://itep.org/new-state-by-state-estimates-modified-senate-gop-stimulus-bill-still-falls-short/
---
---