Poverty and income data released today paint a complex picture of income and wealth but don't tell a complete story about the impact of the recent tax law (it likely will take a few years before we know its true impact). But if we look at what has happened to the economic status of families over time, we know that income has been concentrating at the top. Tax cuts that shower the majority of their benefit on the rich and corporations are not likely to reverse this trend. From "We Crunched Some Numbers to Show What Tax Reform for Working People Really Looks Like"
Poverty declined, but …
The federal poverty rate declined for the third consecutive year (to 12.3 percent from 12.7 percent) but is still more than a percentage point higher than its historical low of 11.1 percent in 1973. The only time in more recent history that it fell below 12 percent was from 1999 to 2001 when it ranged between 11.3 and 11.9 percent. And while a marginal percentage of people moved out of poverty in 2017, more of the poor fell into deep poverty.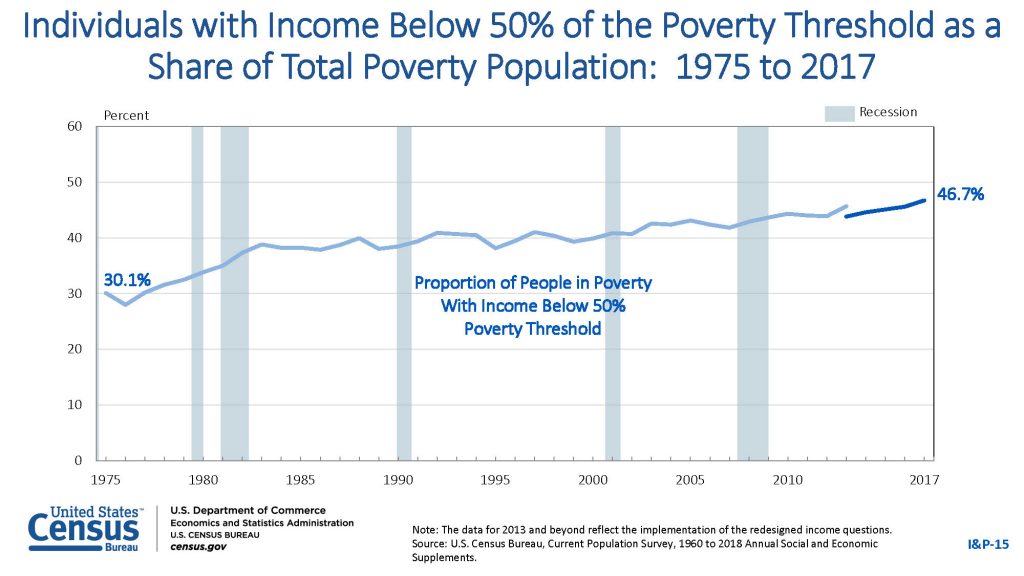 Median income reached its highest level ever, or did it?
In 2017, median household income was $61,372. This number is widely cited as progress for working families because up until 2016, median household income remained stubbornly below its 1999 peak of $60,062, when adjusted for inflation. The Census Bureau, however, has provided some important caveats. In 2013, it redesigned its income questions. As a result, it suggests previous years' estimates are higher than reported and income levels in 1999 and 2007 are just as high as the 2017 estimate.
Income continues to concentrate at the top
2016 to 2017 is a mere snapshot in time and comparing the two doesn't paint a complete picture of how the nation's families have fared economically over time. For example, median income is marginally higher than it was in 1999 (or the same, depending on what measure you use), but that is due to income growth at the top. Average income for the poorest 20 percent of households is less today than it was 18 years ago, while average income has soared for those at the top. For example, in 2017, average household income for the lowest-income 20 percent of households was $13,258, which, while a few dollars higher than it was in 2016 ($13,221) is 10 percent lower than its 1999 level of $14,633. Meanwhile, for the top 5 percent of households, average income has soared 11 percent since 1999, climbing from $346,945 to $385,289 in 2017.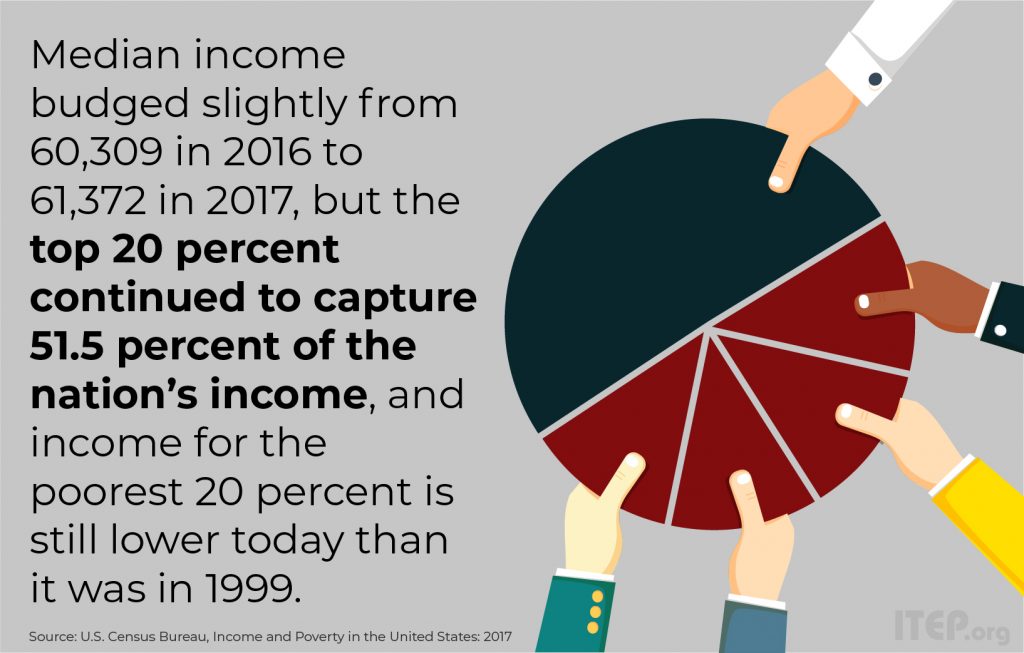 ---
---
Authors

Share
Full Archive