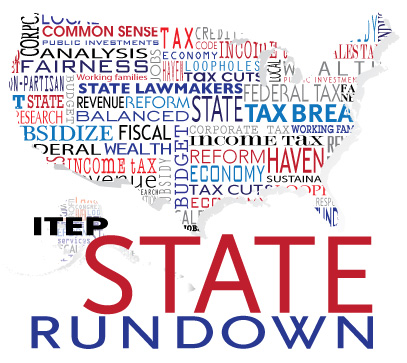 .ITEP Staff

We had our noses buried in new American Rescue Plan guidance linked below under "What We're Reading" when we heard the refreshing news that Missouri leaders are on the verge of modernizing their tax code, not only by becoming the final state to apply sales taxes to online purchases, but also by enacting an Earned Income Tax Credit (EITC). The EITC will give a needed boost to middle- and low-income families who pay the highest taxes in the state, and if they are able to make the credit refundable down the road, as Massachusetts are attempting with their childcare deduction, it will do even more to help Missouri's families and businesses. Meanwhile, tax debates are also highly active in California, Colorado, Louisiana, Maine, and Nebraska. We also share some of our own reporting on recent efforts in Arizona and several other states to undermine voter-approved reforms and democratic institutions themselves.
Major State Tax Proposals and Developments
COLORADO leaders are proposing a major progressive tax rebalancing package that raises taxes on upper-income households and large businesses and uses most of that revenue to help middle- and low-income families and small businesses. That assistance is delivered by doubling the state EITC, funding a new refundable Child Tax Credit, and expanding some tax benefits for smaller businesses. The increases are achieved by capping itemized deductions, permanently eliminating a "pass-through" break for rich households, eliminating a deduction for unearned capital gains income, and reining in deductions and loopholes used by larger corporations. – MARCO GUZMAN
MISSOURI House and Senate members will meet in a conference committee this week to sort out differences on a bill that will likely cut the top income tax rate, apply the state sales tax to online sales, and finally create a (nonrefundable) Earned Income Tax Credit (EITC) in the Show Me State after many years of effort. – DYLAN GRUNDMAN O'NEILL
ITEP Research Director Carl Davis explains how some ARIZONA lawmakers are attempting to directly subvert the will of voters by turning a ballot-approved tax increase on rich Arizonans into a net tax cut via an unprecedented regressive income tax bracket overhaul. Davis and Communications Director Jenice R. Robinson discuss how this fits into a broader nationwide effort to undermine democracy and entrench the racist and inequitable status quo, with further examples from FLORIDA, MISSOURI, and WISCONSIN.
State Roundup
What We're Reading
If you like what you are seeing in the Rundown (or even if you don't) please send any feedback or tips for future posts to Meg Wiehe at [email protected]. Click here to sign up to receive the Rundown via email.
---
---