May 11, 2018
Millionaires Average Annual Tax Cut in North Carolina Is Comparable to Average Teacher's Salary
news release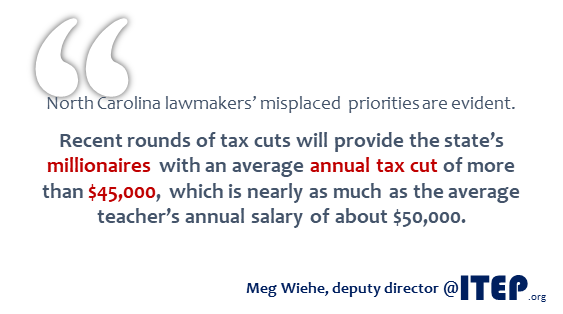 Following is a statement by Meg Wiehe, deputy director of the Institute on Taxation and Economic Policy, regarding the pending one-day walkout by North Carolina teachers. State educators will protest lower-than-average wages and overall inadequate funding for education.
"For the last several months, teachers across the nation have been taking a stand to protest inadequate funding for education and the tax cuts that led to the crisis. Now, North Carolina teachers from more than 25 districts across the state plan to walk out on Wednesday.
"As we have seen in Arizona, Colorado, Oklahoma, and West Virginia, the North Carolina story is yet another example of how lawmakers have prioritized tax cuts for the wealthy and corporations over public services. North Carolina legislators have cut taxes four times in the last five years. When all of the tax cuts are in place, the state will have $3.5 billion less a year to spend on public services, including education.
"Teachers have received consecutive pay increases over the last three years, but collectively it hasn't amounted to enough to restore their earnings to pre-recession levels. In fact, the average annual salary for North Carolina teachers remains nearly $10,000 below the national average, and per pupil spending is 25 percent below the national average. Further, a look at the last decade reveals that North Carolina has cut per-student funding for K-12 schools by 7.9 percent, according to the Center on Budget and Policy Priorities. Meanwhile, North Carolina lawmakers have enacted major tax cuts, with the bulk of those tax cuts going to corporations and the wealthy.
"The misplaced priorities are evident: The recent tax cuts will provide the state's millionaires with an average annual tax cut of more than $45,000, which is nearly as much as the average teacher's annual salary of about $50,000.
"As North Carolina's economy began to recover from the most recent recession, lawmakers prioritized deep tax cuts over restoring investments in public services. This is clearly not a fiscal model that will benefit the average North Carolinian or sustain needed public services, including the ability for the state to provide high quality public education for its children."
---