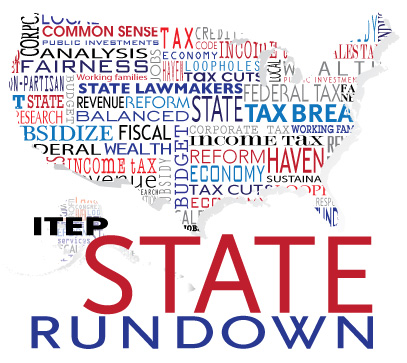 .ITEP Staff

With many state legislative sessions wrapped or wrapping up and a handful of budget discussions still ongoing, we at ITEP want to take a moment to direct your attention south, and specifically, to the American South. ITEP's Kamolika Das recently published a report focusing on how we can advance equitable tax policy in the south. The report leans heavily on historical context to help center the discussion on twelve southern states and exposes the roots of their state tax structures and the events and decisions that have led to the tax systems we see today. Most importantly, however, Das provides recommendations on how to build a more prosperous and equitable future. Read the full report here: Creating Racially and Economically Equitable Tax Policy in the South
Major State Tax Proposals and Developments
The MASSACHUSETTS Supreme Court ruled that a legal challenge to the wording of the proposed "millionaire tax," known as the Fair Share Amendment, was in compliance with the state constitution and can appear on the November 2022 ballot. – MARCO GUZMAN
State Roundup
What We're Reading
David DeWitt of the Ohio Capital Journal explains how legislators are using inflation fears to push income tax cuts, even though these cuts would overwhelmingly benefit wealthy Ohioans over the low- and moderate-income households who disproportionately feel the pinch of inflation.
Researchers at the Wharton School at the University of Pennsylvania published a report studying the effects of state gas tax holidays, finding that recent suspensions in states like Maryland, Georgia, and Connecticut led to lower gas prices for consumers. The price cuts, however, were not maintained throughout the entirety of the holiday.
If you like what you are seeing in the Rundown (or even if you don't) please send any feedback or tips for future posts to Aidan Davis at [email protected]. Click here to sign up to receive the Rundown via email.
---
---